TractionNext
With TractionNext, you can automate campaign workflows, accelerate conversions, and trigger conversations all from one, unified platform. The software provides visibility across multiple channels, including SMS, email, surveys, promotions, and online campaigns.
How to get your contacts in sync: Sign in or Sign up for a free PieSync trial with only your name and email address.
1. CHOOSE YOUR APPS 
2. AUTHORIZE YOUR APPS 
We need permission to access both your accounts, this is necessary to keep your accounts in sync. To Authorize your TractionNext account, you need to allow access by choosing your TractionNext account's site host (either tractionnext.com or beginsend.com) and API token. The latter can be retrieved from the Settings menu in your TractionNext account details.
You'll also have to indicate which TractionNext list you'd like to sync with.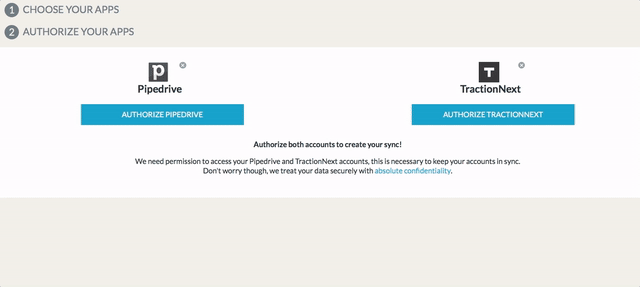 3. CONFIGURE YOUR SYNC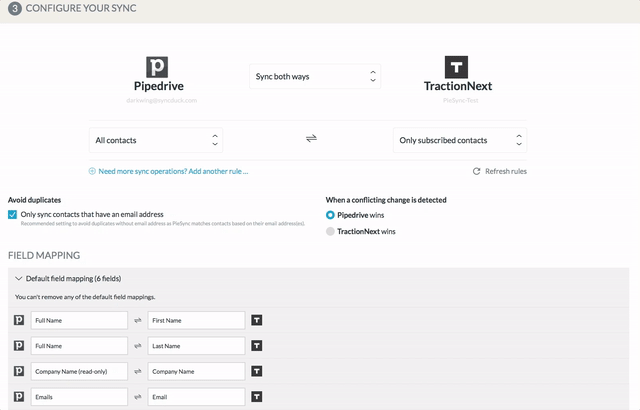 Choose the filter for each app to define the subset of contacts you want to keep in sync. Setting up more than one rule is available from the Medium plan onward.
Keep in mind some
important side notes
in regards to the availability of Multiple Rules. Want to set up more than one rule? Check out
here
how to do this!
Once you have chosen your filter(s), you can continue with the rest of the configuration as described in the steps below. Bear in mind that not all features are available in each connection.  
3.2 CHOOSE THE DIRECTION OF YOUR SYNC
In between your filters you are able to choose the direction of your sync in the drop-down menu. Choose to sync two-way or one-way in either direction.
3.3 AVOID DUPLICATES
Only syncing contacts with an email address, as this is the field we use to match your contacts. This feature is optional when configuring 'older' connections, you'll be able to tick or untick the box. For newer ones, this is mandatory, just to make sure you're always protected from duplicates (don't we all hate them!). If you do wish to turn off this feature, just give us a shout at support@piesync.com. Don't worry, we will always advise first on how best to proceed!
3.4 SYNC DELETIONS OR SYNC UNSUBSCRIBES
The availability of these features is app and connection dependent. If the boxes are not there to tick, the features are simply not available. We need to be able to detect deletions and/or unsubscribes on one side and at the same time be able to create a tag/group/list/... named 'PieSync Trash' or 'PieSync Unsubscribes' on the other side. When available, we always explain how and in which direction this feature works for that particular connection.
Syncing Unsubscribes or Syncing Deletions is not available in all connections. 
3.5 CHOOSE YOUR MASTER APP (When conflicting change is detected)
We need you to choose the 'winning app' in case PieSync detects conflicting changes. PieSync detects changes on a field level: Chances of having a conflict are very small; only when two people are updating the same field of the same contact, in different applications at the same time, with conflicting information, there is a conflict (phew, we hope you survived that sentence as well)! On the rare occasion, when a conflict does occur, PieSync will take the value of the master application.
During the initial sync, when we match your databases based on the email address field, we will also use your Master App choice when there's a difference on another field level. Don't worry, when your master app has empty fields, we won't delete any field information in the other app.
3.6 ADDITIONALLY SYNC TO THE GOOGLE CONTACTS GROUP 'MY CONTACTS' (When syncing with Google Contacts) 
When you have a connection setup with Google Contacts, you can additionally sync your contacts to the Google Contacts group 'My Contacts'. This feature is especially useful for iPhone users, as your iPhone contacts get synced to 'my contacts' in Google by default.
This Feature is only available in connections with Google Contacts. 
This part in the configuration shows you the default fields we currently keep in sync and how we map them between the two apps you have connected. 
3.8 CUSTOMIZABLE FIELD MAPPING 
This feature allows you to create custom mappings, defining which contact fields should be kept in sync between your applications, including standard and custom fields (app dependent). 
We support TractionNext Custom Fields!
The customizable field mapping is set up and shown in the white part below the default field mapping in the configuration. You can add an unlimited amount of mappings and remove, enable/disable them anytime.
4. START SYNCING!

Make sure no other integrations are running next to PieSync for the accounts you have connected in PieSync. Other integrations will have access to your data and have the ability to manipulate as well. For this reason, we kindly ask you to use PieSync and nothing else to keep your data in sync. Other integrations running in parallel with PieSync are a no-go!
In case you have a lot of contacts in your applications, the initial sync will take some time, even if you configured PieSync only to sync a subset of your contacts. During the initial scan, we need to process all of your contacts (also the contacts outside the chosen subset) to avoid duplicates during the sync. After the initial sync, it should never take much longer than five minutes for updates to show.
Thanks to the feedback we have already received, we created a list of popular apps that we're going to work on very soon. By voting them up in our pipeline, YOU decide which connectors we'll release first. If you don't see your app on the list or need any further help, drop us a line - support@piesync.com.
Don't forget to read our blog for the latest in productivity, apps, and technology!