Sync Direction
CHOOSE TO SYNC TWO-WAY OR ONE-WAY
In the dashboard of your connection, you are able to choose the direction of your sync.
In case you want to keep your contacts tightly in sync between two apps, we recommend a two-way sync. A change or update you make to a synced contact (we match on the email address) or a newly created contact, will be reflected in both apps.  
Depending on your use-case you might want to set up a one-way sync. For example, you might only make changes in your CRM database and never in your Marketing tool. In cases like that, you could set up a one-way sync from your CRM to your Marketing tool.
Are you looking for an easy way to export/import your contacts from one app to another? Then a one-way sync could be useful as well.
Here below you see some screenshots of an example sync between Google Contacts and Podio, showing you where to choose the direction in the dashboard:
1) WHERE TO CHOOSE THE DIRECTION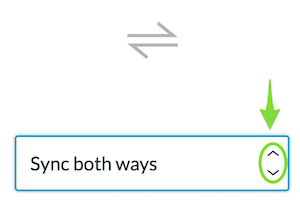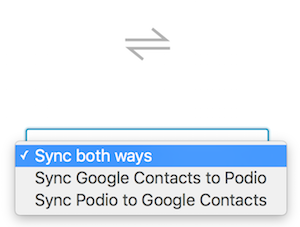 2) TWO-WAY SYNC ↔

3) ONE-WAY SYNC →

4) ONE-WAY SYNC ←