Cleaning up duplicates in your CRM
Deduping your CRM list just got easy as pie!
We understand the quality of your data is very important, which is why we do everything we can to avoid you having duplicates.
As we are now 
syncing deletions from Google to your CRM
, you can use Google to find and merge duplicates if your CRM doesn't have this ability (and unfortunately most don't).
In this first phase, the deletion sync works from Google to the following CRMs: Capsule CRM, Podio, BigContacts, OnePage CRM, Nimble and Highrise. We will continue to add more apps to this list, starting with FollowUpBoss, Pipedrive, Salesforce and Workbooks.
Cleaning up your CRM: step by step
1) Log into your Google Contacts account: contacts.google.com and make sure you have a two-way PieSync connection set up between your Google account and CRM with all your contacts or just the subset you'd like to clean up.
2) If you're using the new Google Contacts (not yet available for Google Apps users), click 'Find duplicates' on the left-hand side: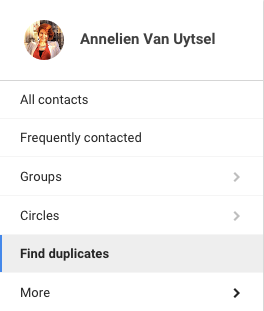 If you're still on the "old" Google Contacts, click 'More' just above your contact list and then 'Find & merge duplicates':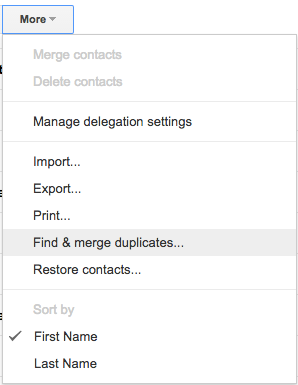 3) Select which contacts to merge or choose to merge them all.
4) When Google merged all the contact's info to one of the contacts, PieSync will pick up on this and send these exact changes to your CRM. One of the contacts will have all the information, the other one will get a 'piesync_trash' tag so you can easily select all the contacts that can be deleted and remove them in one click.

Important note: Make sure to check there's no additional data (notes, deals, etc.) attached to the contacts you're deleting.