dotmailer
Dotmailer helps you to create and track personalized, segmented and optimized email marketing campaigns. Import mailing lists, web forms, data third-party sites and apps, as well as website and purchase behavior. Dotmailer helps to segment customer lists and send automated, triggered emails based on events, purchase history and much more!
Supported Dotmailer Integrations
Authorizing Dotmailer
To authorize Dotmailer you will need to put in your API username and API password in the pop-up window that appears. Then, in a second step, you choose the address book in Dotmailer you would like to synchronize the contacts of. 
The API Username & API password can be found in your Dotmailer access settings

If you already authorized your Dotmailer addressbook in the past or in any other PieSync integration, you'll be able to skip this step and immediately choose from your CONNECTED ACCOUNTS.
[IF] Supported Conditions/Filters
At the moment we will only be able to read into the 'Subscribed contacts' and not the 'Unsubscribed' or 'Suppressed' contacts. 
You can synchronize Dotmailer subscribers or information stored inside those subscribers out of Dotmailer to your other application. By default, anyone in the addressbook will be the subject of a sync. However, you can choose to limit the sync by selecting a subset through a filter.
On the condition if already exists in the other application you are syncing to
Any of the default fields
Any of the custom fields you have setup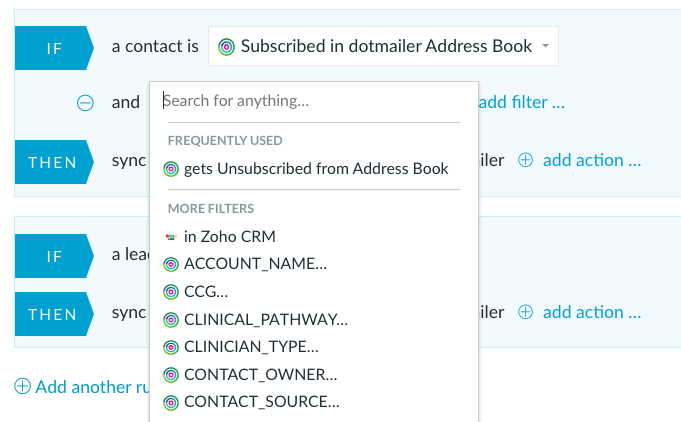 [THEN] Supported Actions
In the event that you synchronize contacts into Dotmailer, you can choose to have an action performed alongside the synchronization, which is to update the fields present on the subscriber, including custom fields.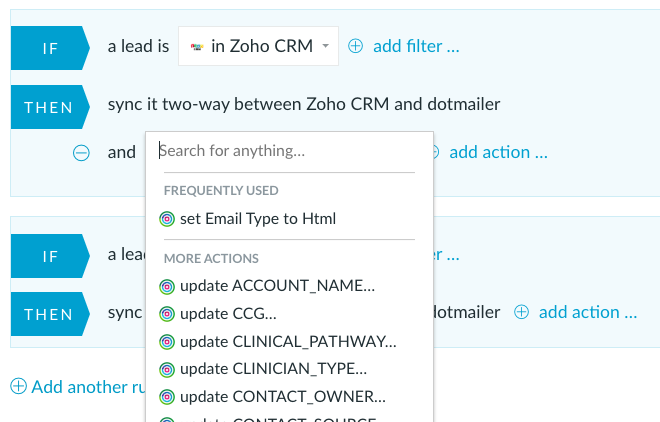 Default Field Mapping
By default, you will not see many fields that have been mapped, other than Email & Name. These are mapped by default - you cannot change this as this is required. See below an example, showing a connection with ZohoCRM.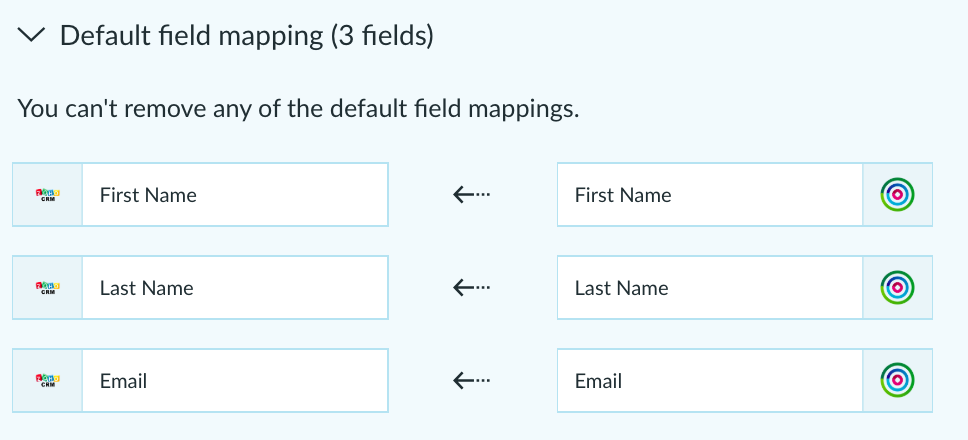 Customizable Field Mapping
Because there are very little default fields in a sync with Dotmailer, you can and should custom map your custom fields to corresponding fields in the other app.
Bear in mind a mapping between two fields can only exist if the types of fields are compatible. More information on Customizable Field Mapping here. 

Additional Options
Syncing Unsubscribes/Deletions
For the time being, our unsubscribes/deletions sync is not supported for Dotmailer.

The availability of the feature to subscribe or sync deletions is app and connection dependent. We need to be able to detect deletions or unsubscribes on one side and at the same time be able to create add the tag 'PieSync Trash' or 'PieSync unsubscribe' on the other side.
More information on syncing deletions with other integrations, or on syncing unsubscribes.
Thanks to the feedback we have already received, we created a list of popular apps that we're going to work on very soon. By 
voting them up in our pipeline
, YOU decide which connectors we'll release first. If you don't see your app on the list or need any further help, drop us a line - support@piesync.com. 
Don't forget to read our blog for the latest in productivity, apps, and technology!
---