Greenhouse
Greenhouse helps thousands of the smartest and most successful companies design and automate all aspects of hiring throughout their organizations, helping them compete for and win top talent. The Greenhouse Talent Acquisition suite is based on a structured interview approach which gives Talent teams the ability to make more fair hiring decisions backed by data and feedback.
Below you'll find detailed information, specifically for Greenhouse integrations:
Supported Greenhouse Integrations
Authorizing Greenhouse
To connect your Greenhouse account, we need the following items:
Your email address (which you use to log in)
Your API key. Click here to retrieve it.
These are the minimal permissions your API key would need to have to give our sync the required access:
Candidates → Add/Edit/List/Retrieve Candidate(s)
Custom Fields → Get custom fields
Jobs → List Jobs
Sources → List Sources
Users → List Users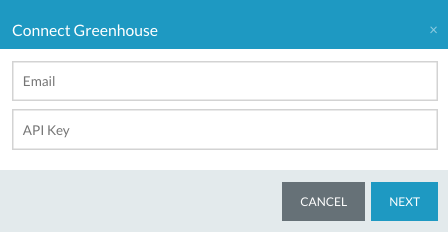 If you have previously set up a connection with any of these apps, you do not need to go through these steps again, unless you need a different Greenhouse account.
[IF] Supported Conditions/Filters
Coordinator…
Do Not Email…
Recruiter…
has Job Applications
has Resume
has applied for Job…
is a Prospect (has no Job Applications)
Tags...
Source…
Created At…
Current Company…
Current Stage of Last Active Application…
Current Title…
First Name…
Jobs Applied For…
Last Activity…
Last Applied On…
Last Name…
Private…
Updated At…
has no Resume
has not applied for Job…
Custom fields...
Already existing in other application

[THEN] Supported Actions
add Tag
remove Tag
update Coordinator…
update Recruiter…
update Current Company…
update Current Title…
update First Name…
update Last Name…
update Private…
update Custom Fields

Default Field Mapping
Depending on the other app you're syncing with, you'll see a number of standard Greenhouse fields being mapped by default. For instance, in a connection with Google Contacts, the default field mapping looks like this:

PieSync syncs the default name field(s) that come with the apps. Sometimes they have a different structure in both apps you connect. E.g. first and last names are separate in app A and joint in a single field in app B. In the background, PieSync joins first and last names together from app A to B and separates them again from app B to A. Our algorithm is smart about which part it updates in app B.
Customizable Field Mapping
You can custom map your Greenhouse Custom Fields and any additional standard fields that aren't included in the default mapping yet. Bear in mind a mapping between two fields can only exist if the types of fields are compatible, and the particular compatibility will determine the direction of the mapping as well. More information on Customizable Field Mapping here.
Additional Options
Syncing Deletions
Currently, there are no Greenhouse integrations on the PieSync platform that support our deletions sync.
Create Greenhouse Candidates
Candidates are intended be created in Greenhouse through job applications and therefore PieSync won't create any new candidates. This setting cannot be disabled. Existing contacts can be updated at any time.

Syncing Email Preference
You have the ability to sync back the Email Preferences. An easy way to do this would by setting up a direct mapping from the Do Not Contact field into a custom text field over in your other app. Here, the field on the right is a custom text field which will populate with a simple text label "True/False".

Another option is to use this value it into trigger workflows. However, you can also have PieSync directly change certain attributes based on what is happening inside of Greenhouse. This would require setting up specific filters or actions from the PieSync Rules like so:

---