MailChimp
MailChimp is an extensive email marketing tool, and probably the most versatile out there! Targeted campaigns, newsletters, and automated messages together with a broad range of excellent and customizable templates and pre-made campaigns will make this a breeze. Below you'll find more detailed information, specifically for MailChimp integrations:
Video
This video shows an example of syncing MailChimp with Nimble.
Supported MailChimp Integrations
Authorizing MailChimp
We simply ask your login details and permission for access
For MailChimp, we need authorization per AUDIENCE. This means you need to set up a new connection for each AUDIENCE you want to keep in sync. You can choose from all your existing AUDIENCES in the authorization step after entering your login details.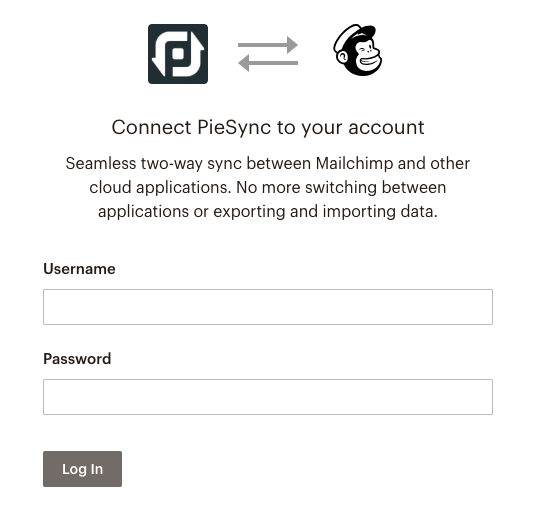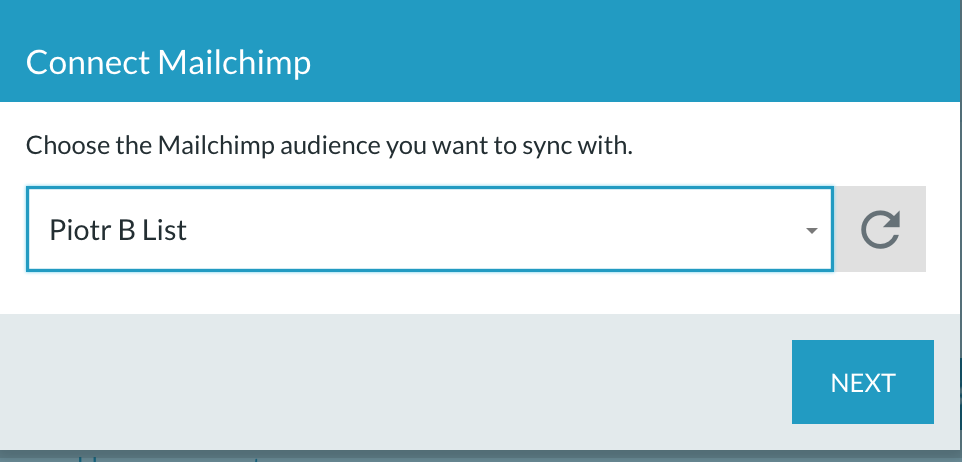 If you already authorized MailChimp Audience(s) in the past or in any other PieSync integration, you'll be able to skip this step and choose from your CONNECTED ACCOUNTS.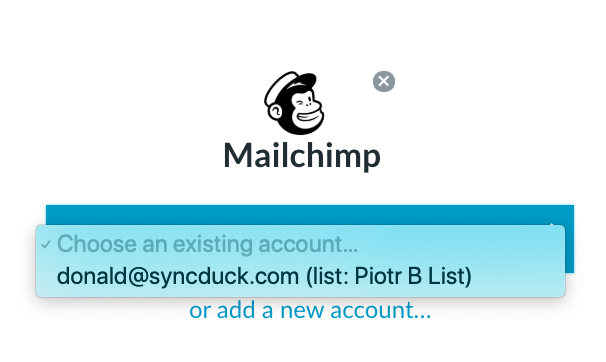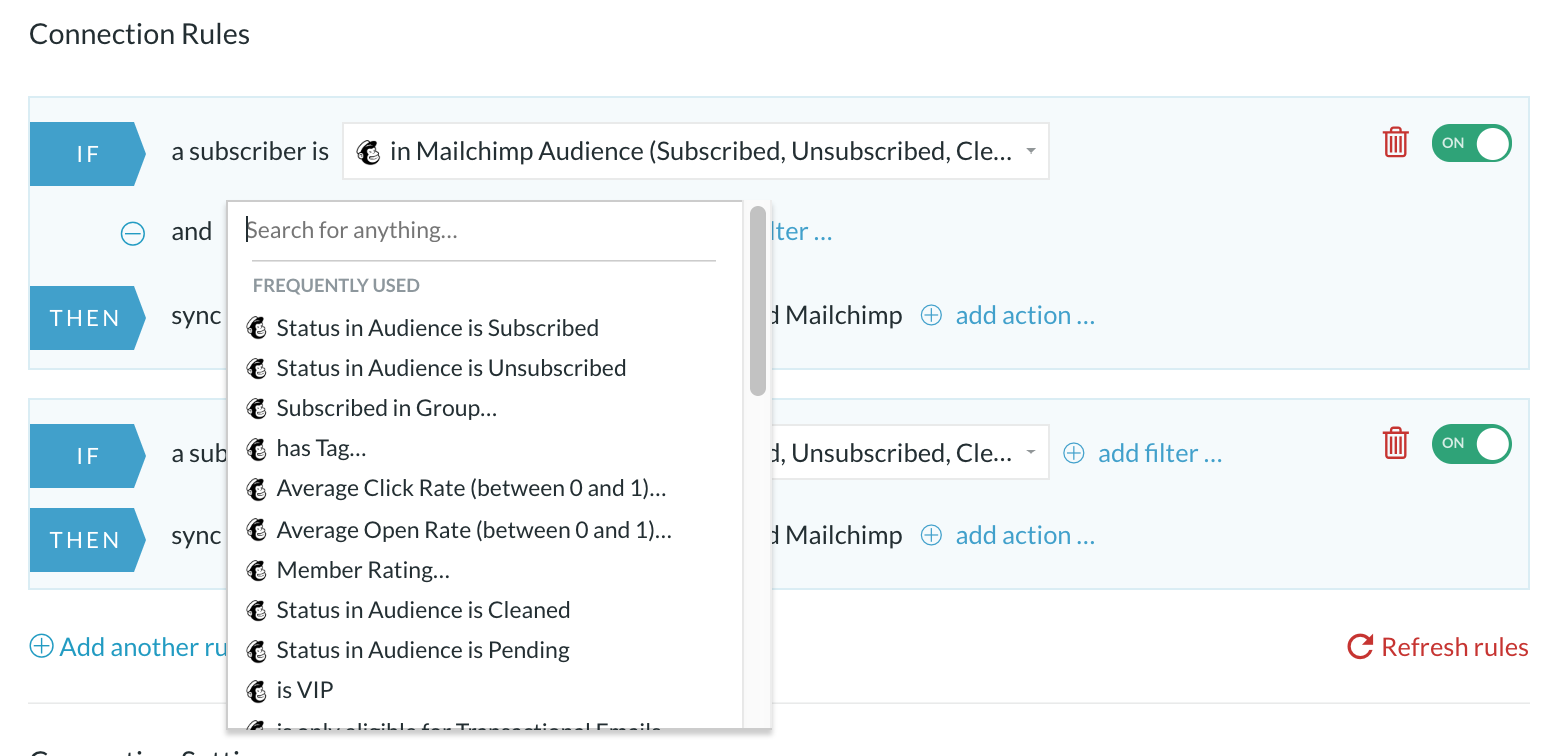 [IF] Supported Conditions/Filters 
You can sync one AUDIENCE per connection - PieSync needs you to authorize each MailChimp AUDIENCE separately
STATUS IN AUDIENCE
STATUS IN GROUP
AVERAGE CLICK/OPEN RATE
MEMBER RATING
VIP YES/NO
FIELDS (INCLUDING CUSTOM FIELDS)
ALREADY EXISTING IN THE APP YOU SYNC WITH (e.g. Google Contacts / Depending on the app you sync MailChimp with)
PieSync can't include MailChimp segments. A segment is a custom filter you apply to look at your groups. As such, this can't be included in our rules.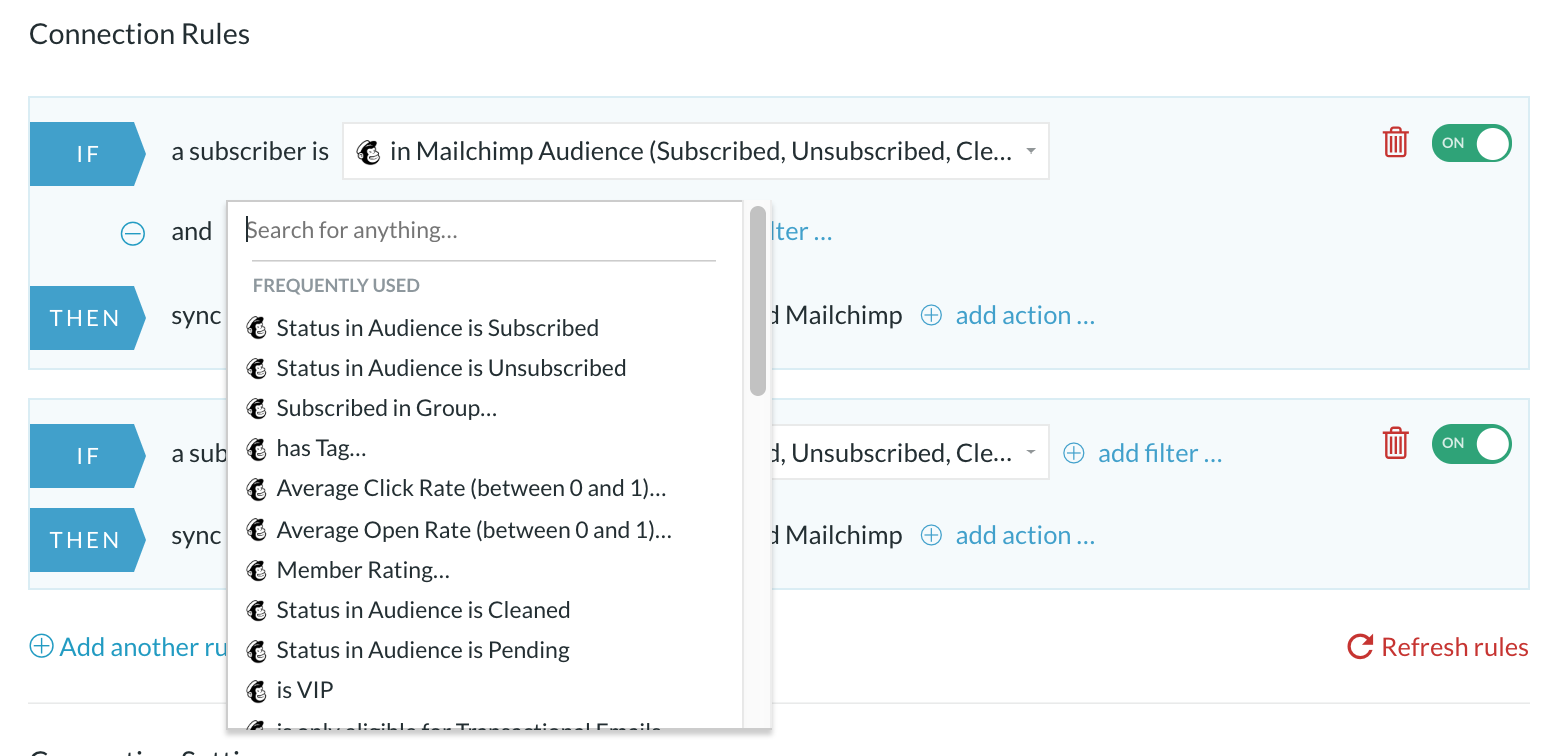 [THEN] Supported Actions
SUBSCRIBING/UNSUBSCRIBING FROM AUDIENCE
SUBSCRIBING/UNSUBSCRiBING FROM GROUP
APPLY/REMOVE VIP STATUS
UPDATE FIELDS (INCLUDING CUSTOM FIELDS)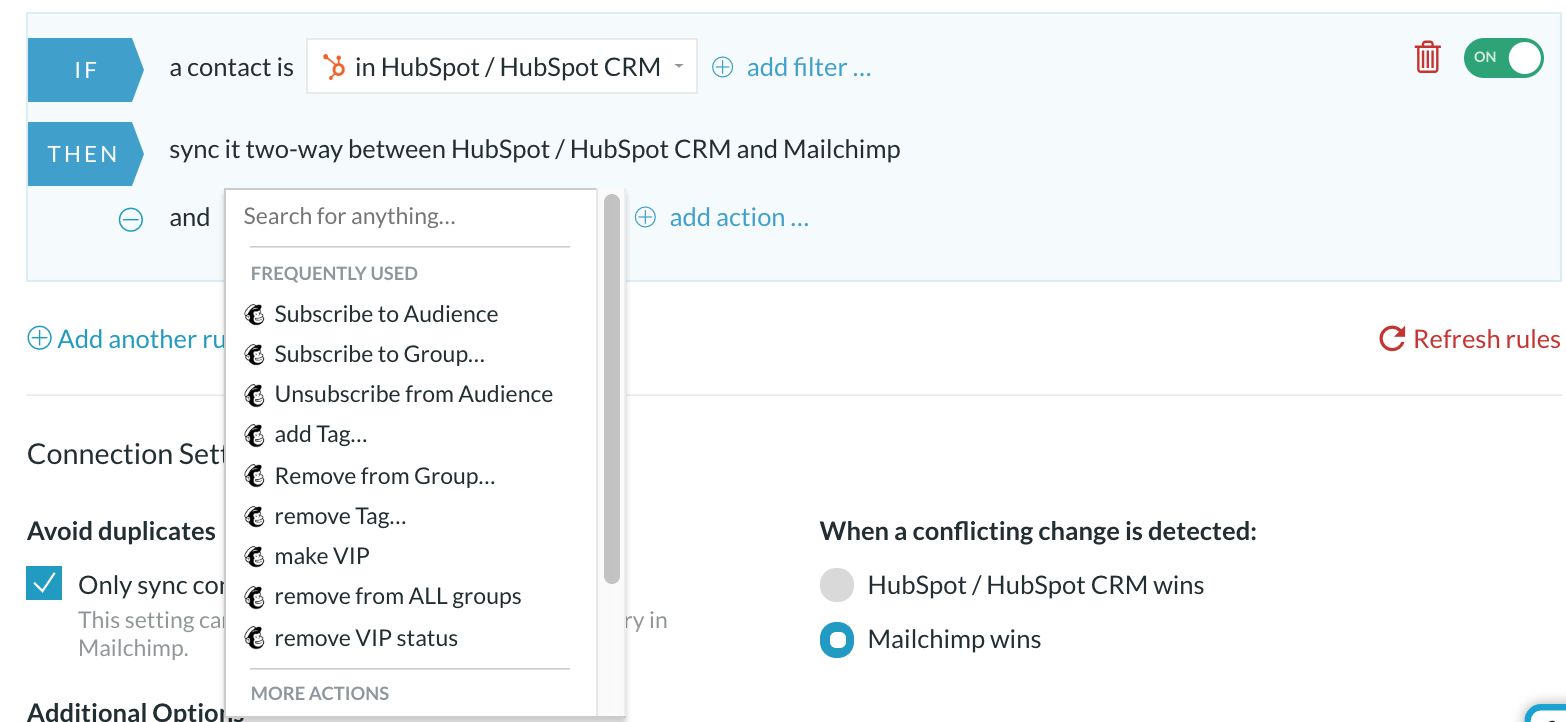 Below an example of two different rules providing the same result. The underlying message is to fine-tune your rules and not sync all of your contacts blindly to MailChimp. 
This video
 provides a more in-depth explanation.

Default Field Mapping 
MailChimp has 3 standard fields, therefore, the default field mapping for MailChimp integrations with HubSpot will look like this:

PieSync syncs the default name field(s) that come with the apps. Sometimes they have a different structure in both apps you connect. E.g. first and last names are separate in app A and joint in a single field in app B. In the background, PieSync joins first and last names together from app A to B and separates them again from app B to A. Our algorithm is smart about which part it updates in app B.
Please note that the default fields will no longer sync/update after altering the correlating tags in MailChimp. 
You can fix this by changing your fields back to the default setting:
- Go to your audience
- Click on 'Settings', then go to 'audience fields and *|MERGE|* tags'
- In the column 'Put this tag in your content:' change the tag of your first name field to FNAME and the last name field to LNAME (these are the default values)
- Delete your sync and create it again.
Your custom made field will only appear in the customizable field mapping list after ticking the "required" box visible above. This also implies that it's required to custom map that particular field in order to sync the contact data. 

Customizable Field Mapping 
You can custom map your MailChimp custom fields and any additional standard fields that aren't included in the default mapping yet. Bear in mind, a mapping between two fields can only exist if the types of fields are compatible. More information on Customizable Field Mapping here. 

Additional Options
Currently, there are no MailChimp integrations on the PieSync platform that support our deletions sync.
Syncing Unsubscribes 
In connections with MailChimp, where adding a tag in app B is a supported trigger (THEN), you are able to sync unsubscribes one-way. When a contact unsubscribes in MailChimp, we add the tag 'PieSync Unsubscribes' to that same contact in app B. This way, you are able to review this segment first before taking any action in app B.  
The availability to sync unsubscribes is app and connection dependent. If the box (screenshot above) is not there to tick, it's simply not possible. We need to be able to detect deletions on one side and at the same time be able to create add the tag 'PieSync Unsubscribes' on the other side. More Information on Syncing Unsubscribes 
here
.
Thanks to the feedback we have already received, we created a list of popular apps that we're going to work on very soon. By 
voting them up in our pipeline
, YOU decide which connectors we'll release first. If you don't see your app on the list or need any further help, drop us a line - support@piesync.com.  
Don't forget to read our blog for the latest in productivity, apps, and technology!
---
---