Marketo
Marketo is a powerful marketing automation tool that helps marketers with digital marketing techniques to drive measurable results. Features include: email marketing and marketing analytics. Drive engagement with this solid marketing automation platform.. Below you'll find detailed information, specifically for Marketo integrations.
Video
Supported Marketo integrations
Authorizing Marketo
We need your Client ID, Client Secret and Identity URL Subdomain
Make sure your Marketo account has the correct permissions to lists contacts. It's important to enable "Read-Write Activity". This can be found under Settings -> Users and Roles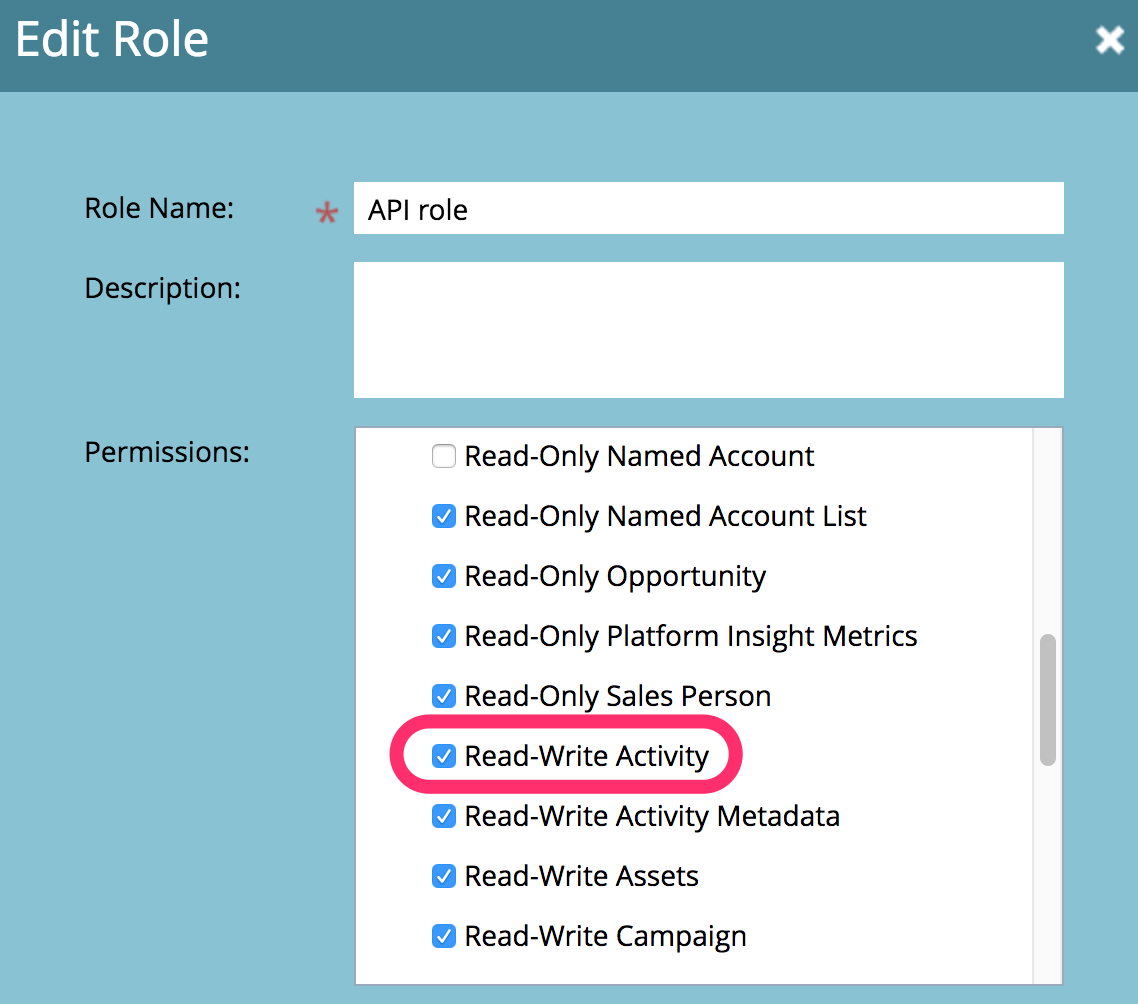 If you already authorized Marketo accounts in the past or in any other PieSync integration, you'll be able to skip this step and choose from your CONNECTED ACCOUNTS.
Supported Conditions/Filters [IF]
You can sync one LIST per connection - PieSync needs you to authorize each Marketo LIST separately.
LEAD SOURCE
LEAD SCORE
SUBSCRIBED YES/NO
URGENCY
PRIORITY
VALID EMAIL YES
RELATIVE SCORE
FIELDS (INCLUDING CUSTOM FIELDS)
ALREADY EXISTING IN APP YOU SYNC WITH
Supported Actions [THEN]
UPDATING LEAD SOURCE
UNSUBSCRIBING/SUBSCRIBING
MARKING EMAIL AS VALID/INVALID
UPDATE FIELDS (INCLUDING CUSTOM FIELDS)
Default Field Mapping
Depending on the other app you're syncing with, you'll see a number of standard Marketo fields being mapped. For instance, a connection with Vtiger will look something like this:

PieSync syncs the default name field(s) that come with the apps. Sometimes they have a different structure in both apps you connect. E.g. first and last names are separate in app A and joint in a single field in app B. In the background, PieSync joins first and last names together from app A to B and separates them again from app B to A. Our algorithm is smart about which part it updates in app B.
Customizable Field Mapping
You can custom map your any additional Marketo fields that aren't included in the default mapping yet. Bear in mind a mapping between two fields can only exist if the types of fields are compatible. More information on Customizable Field Mapping here.
Additional Options
Syncing Unsubscribes and Deletions is not supported for Marketo integrations.
The availability of additional sync option is app and connection dependent. If the feature box (screenshots above) is not there to tick, it's simply not possible. We need to be able to detect deletions on one side and at the same time be able to create add a segment 'PieSync Trash' or 'PieSync Unsubscribes' on the other side.

Thanks to the feedback we have already received, we created a list of popular apps that we're going to work on very soon. By
voting them up in our pipeline
, YOU decide which connectors we'll release first. If you don't see your app on the list or need any further help, drop us a line - support@piesync.com.
Don't forget to read our blog for the latest in productivity, apps, and technology!
---
---