Pipeliner
Pipeliner is not your typical CRM and is one of the most innovating and visual tools for sales professionals out there. Intelligent features including advanced filters, profiling, and a target and business overview on top of lead management, social selling, multiple pipelines, insightful reporting, and forecasting are all visible throughout the entire sales journey on the Navigator Dashboard. Its extensive functionality guides you through complex information in a very intuitive and user-friendly way. This CRM caters to Sales teams, across a broad range of industries, giving them freedom to focus on what's most important.
Below you'll find detailed information, specifically for Pipeliner integrations:
Supported Pipeliner Integrations
Authorizing Pipeliner
We simply ask your login details and your permission. For Pipeliner, we also need your API token, API password, and SpaceID from your Pipeliner account. You need to log into your account on their website to retrieve these, not the Pipeliner desktop app. After that, you choose your personal account within Pipeliner CRM and Sales Unit (subset) to sync with. PieSync connects to all Pipeliner accounts. When you click 'Authorize Pipeliner', this information will be requested in the pop-up window that appears: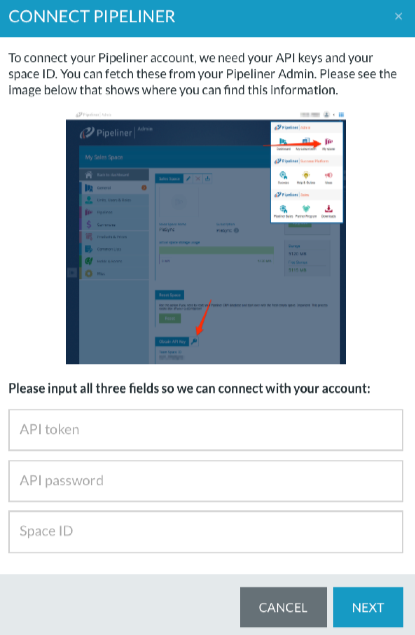 If you already authorized Pipeliner account(s) in the past or in any other PieSync integration, you'll be able to the first part of the authorization and choose from your CONNECTED ACCOUNTS.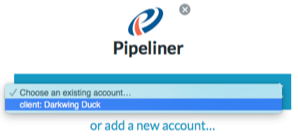 [IF] Supported Conditions/Filters
IN/NOT IN SALES UNIT
OWNED/NOT OWNED BY
FIELD VALUES (INCLUDING CUSTOM FIELDS)
ALREADY EXISTING IN APP YOU SYNC WITH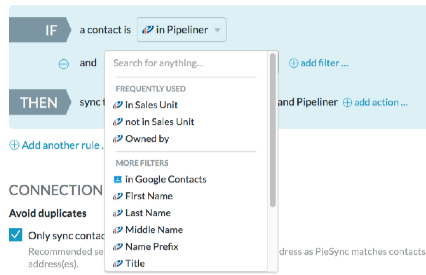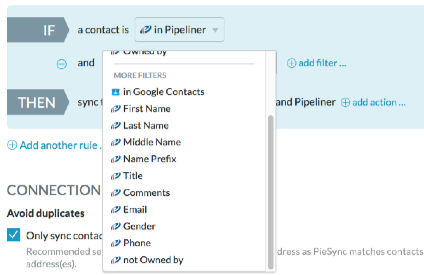 [THEN] Supported Actions
SET SALES UNIT/OWNER TO
UPDATING FIELD VALUES (INCLUDING CUSTOM FIELDS)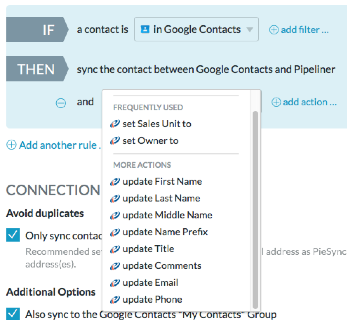 Default Field Mapping
Depending on the other app you're syncing with, you'll see a number of standard Pipeliner fields being mapped by default. For instance, in a connection with Google Contacts, the default field mapping looks like this: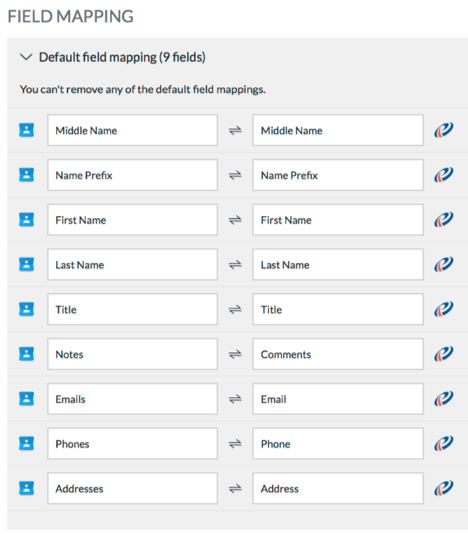 PieSync syncs the default name field(s) that come with the apps. Sometimes they have a different structure in both apps you connect. E.g. first and last names are separate in app A and joint in a single field in app B. In the background, PieSync joins first and last names together from app A to B and separates them again from app B to A. Our algorithm is smart about which part it updates in app B
Customizable Field Mapping
You can custom map your Pipeliner custom fields and any additional standard fields that aren't included in the default mapping yet. Bear in mind a mapping between two fields can only exist if the types of fields are compatible. More information on Customizable Field Mapping HERE. 

Additional Options
Syncing Unsubscribes/Deletions
Currently, there are no Pipeliner integrations on the PieSync platform that support our Unsubscribes/Deletions sync.
---
---